After a challenging couple of years due to the global pandemic, we are super excited to bring back Tauranga STEM Festival on Sunday the 2nd of October. It will be the second edition of STEMFest.
Following on from the first award winning event will be a challenge – but – we believe that with the help of our wonderful partners and friends we will make this year's festival something really special.
For this years' festival we have reached out to amazing companies and organisations working in STEM across Aotearoa and are really excited to deliver fun hands-on activity for the community. This is what we can share with you… we will have a real life size rocket showcasing our Space Zone where visitors will find a huge planetarium and several rovers to play with. But also a plane, some Lego building challenge, a 13m long bridge and lots of robots.
With something for everyone to experience and enjoy, STEMFest is for all ages and 100% FREE to attend thanks to our amazing sponsors.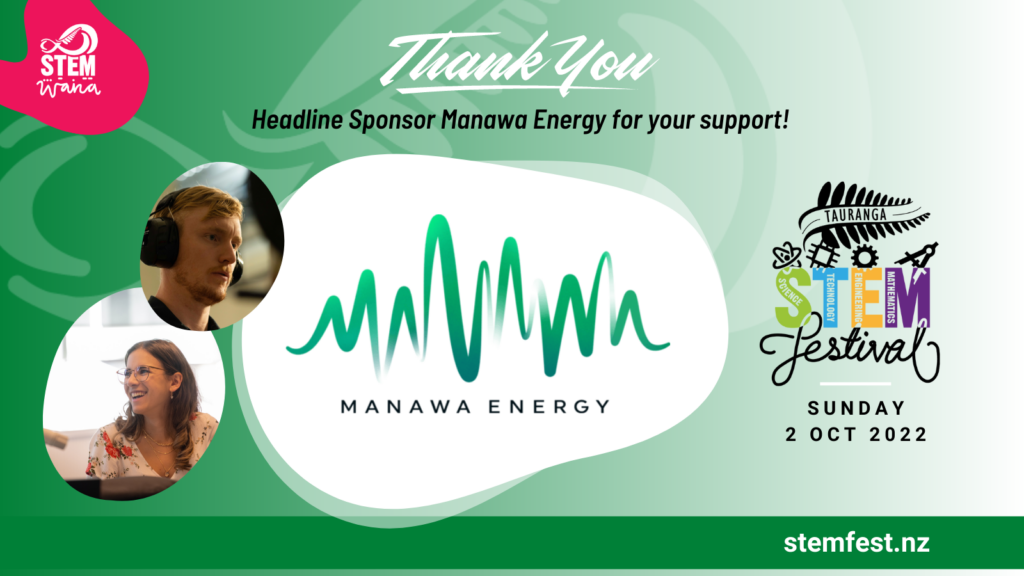 We're thrilled to announce our headline sponsor as Manawa Energy. As you will be aware Manawa has been recently formed and their goal is to develop renewable generation to support our country's ambitions for a thriving, climate-resilient future. You can find out more about their story …
In keeping with our headline sponsor's kaupapa, we are pleased to announce our official theme for this year.
It's about sustainability and being eco-friendly. This means that as event organisers we are considerate in our planning and execution. We're also encouraging exhibitors, partners, and visitors to think how they can be more eco-friendly in their involvement with the festival.
"STEM is at the heart of renewable energy generation which is what we do here at Manawa Energy. In the race to phase out fossil fuels, we will be calling on the young minds of today to help us design and develop new ways to harness energy that will have as little environmental impact as possible."

Annie Tangata, Manawa Energy
Visit the official website: Manawa Energy