Five finalists of the competition announced in late August, will receive an InsectBot Starter Building Kit which will include several components, the core compulsory elements being:
Processor
Sensor
Motor
When designing your InsectBot be sure to consider the above compulsory components and highlight them in your design. Our judging panel will be reviewing all entries after the 9 August 2022 and the lucky five finalists chosen will be sent the Starter Building Kit to bring their design to life.
To help you meet the judging criteria and be in with a chance to be a finalist, here's a preview of what will be in the kit…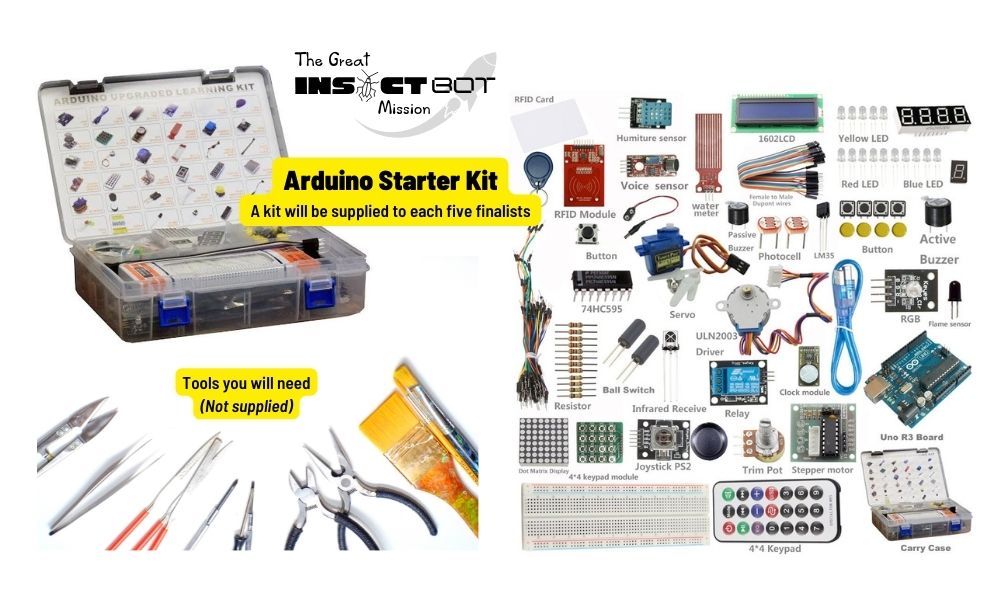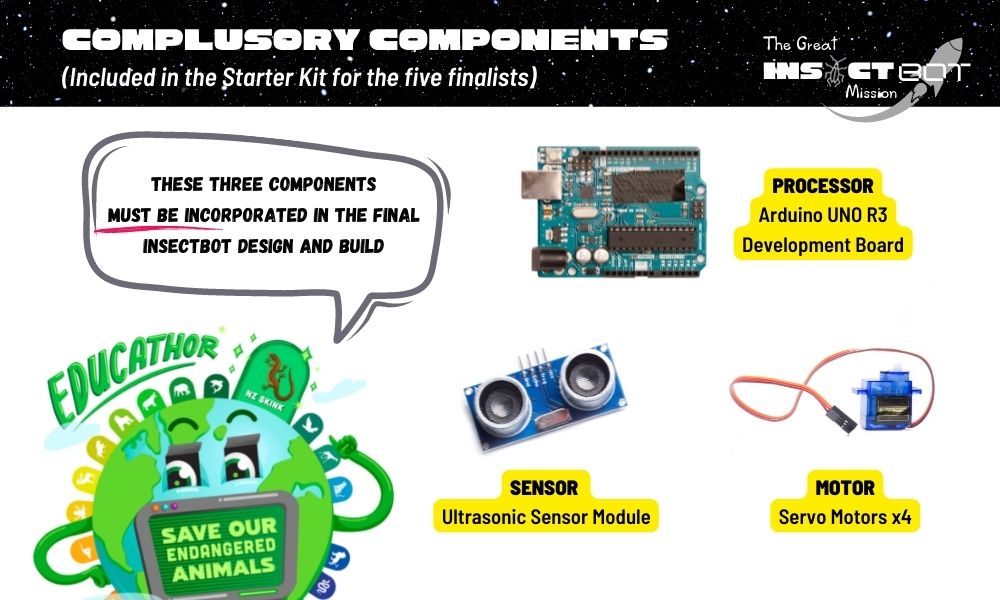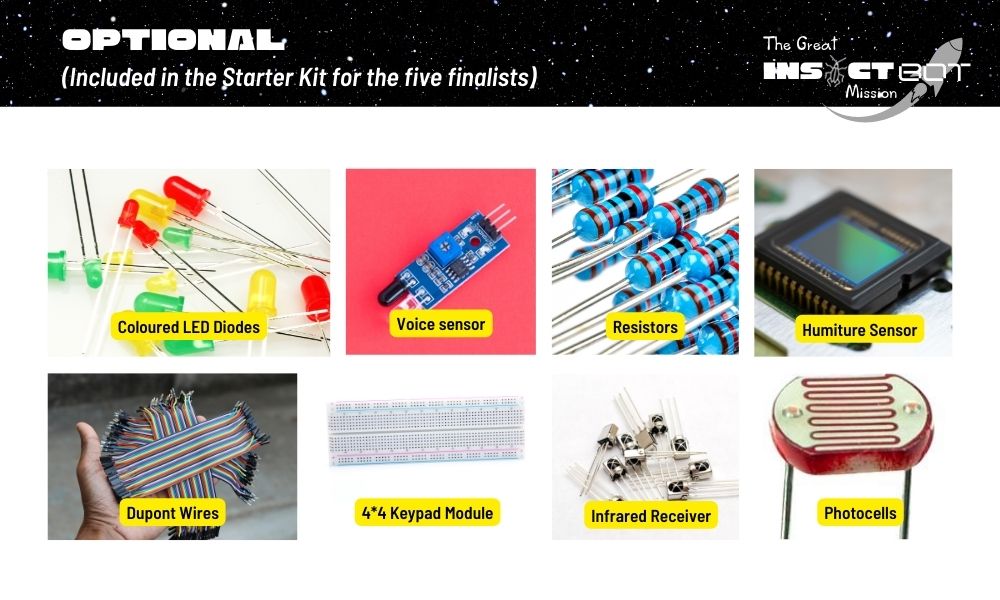 What's in the Starter Building Kit
1 x Arduino UNO R3 Development Board
1 x Big Bread Board
1 x RFID module
1 x IC Keychain
1 x Non-contact type IC card
1 x I2C 1602 LCD module
1 x 5v Opto Relay Module
1 x DS1302 clock module
1 x Voice detection module
1 x Temperature and humidity module
1 x Water level detection module
1 x 4 x 4 Keypad module
1 x XY joystick
1 x 5V Step Motor + Driver Board
1 x SG90 9g Micro Servo
4x 9G Micro Servo Motor
1 x Mini Remote Controller
1 x Three-color RGB LED
4 x Big Hat Button Switchs
5 x Red LEDs
5 x Yellow LEDs
5 x Green LEDs
10 x 220 ohm Resistors
10 x 1k ohm Resistors
10 x 10k ohm Resistors
1 x Active Buzzer
1 x Passive Buzzer Speaker
1 x 1-7 Seg Display
1 x 4-7 Seg Display
1 x 8*8 Mattrix
2 x Ball Switchs
3 x Photoresistors
1 x Adjustable Resistor
1 x Flame Sensor
1 x Infrared Receiver
1 x LM35 Temperature Sensor
2x Dual Ultrasonic Sensor Module
1 x 74HC595 Chip
1 x Dupont Connector set
1 x Breadboard Jumper lead set
1 x USB Cable
1x 3XAA Side by Side Flat Battery Holder
3x AA Battery
Think outside the box!

You do not need to buy new components to build your InsectBot. Have a look at what you already have at home (LEGO or mecano). Check out the following link with the list of makerspaces in Aotearoa as you could use their 3D printer to print parts for your build.