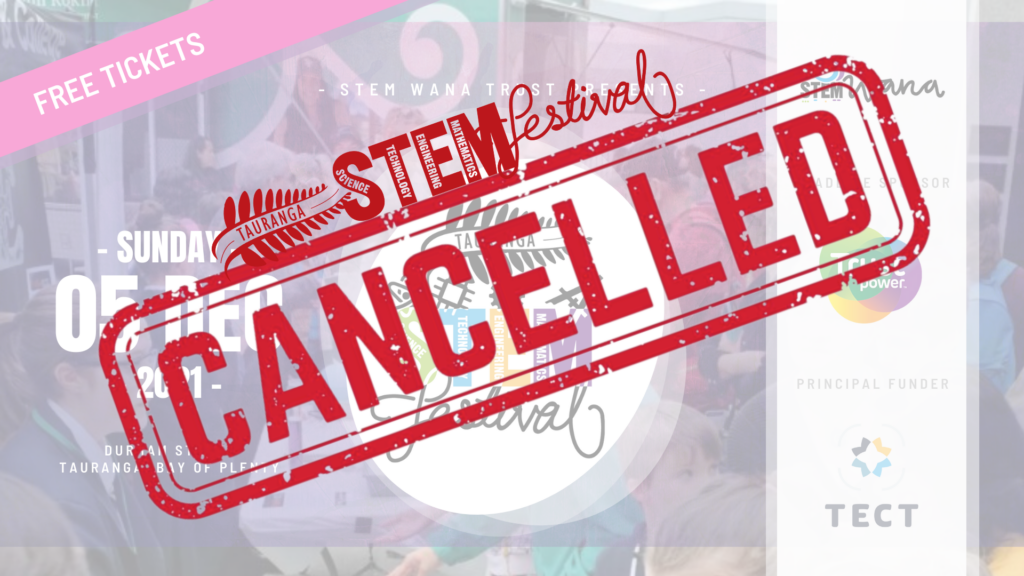 It is with great disappointment that the Board of STEM Wana Trust are reluctantly announcing the cancellation of Tauranga STEM Festival (STEMFest) on the 5th December 2021.
After months and months of work by the STEMFest project team and the initial postponement from our original October date, we have tried to hold off for as long as possible to make this difficult call. Our commitment has always been to keep going until forces beyond our control make it impossible for us to do so. Unfortunately that time has come.
We have made a risk assessment based on the data available to us and it is highly unlikely that we would meet the three major factors to enable us to hold STEMFest in just under five weeks (5th December 2021):
All DHBs across New Zealand needs to reach 90% fully vaccinated status
Bay of Plenty has to be in the Orange traffic light system under the new Framework
Clear guidance and clarity on what the vaccination certificates system looks like and how we would implement it
As we lack the certainty we need based on requirements set by the Government, we would rather let our STEM community know now, rather than wait until the very last hour to avoid any inconvenience to our sponsors, exhibitors and suppliers.
We would like to take the opportunity to say a huge thank you to our amazing sponsors and friends; TECT, Trustpower, Xero, Zespri, Beca, Comvita, LawVu, Toi Ohomai, University of Waikato, Tauranga City Council, Sharp Tudhope, Fonterra, PriorityOne, Basestation, Acorn Foundation, Grace Team Accounting, ACG, KPMG, Harbour Lions Club, TCC Water Education, Port of Tauranga, Gallagher, Rcon Pacific and ICE for their loyal and unwavering support.
We also want to make a special mention to all the local suppliers and providers who continue to be so understanding in light of all the uncertainty and potential loss of income from cancelled and postponed events over the last two years.
Our team is going to take a few days to assess our options (and maybe have a little cry) before coming back stronger than before. Our commitment to our STEM whānau remains steadfast and we will continue to work with our amazing sponsors and partners to bring inspiring events and projects for the benefit of our community – so watch this space.
Until then, stay curious!
The Board of STEM Wana Trust and STEMFest Organising Team