Family Event: Saturday 17th July 2021
Create a Mascot Superhero that will solve an environmental problem using science, technology, engineering, and mathematics (STEM) superpower.
Design a superhero STEM mascot (on A4 paper).
Give your mascot a STEM superpower that will solve an environmental problem.
Give your mascot a superhero name.
Complete the entry form (the entry form will require a parent or guardian sign it).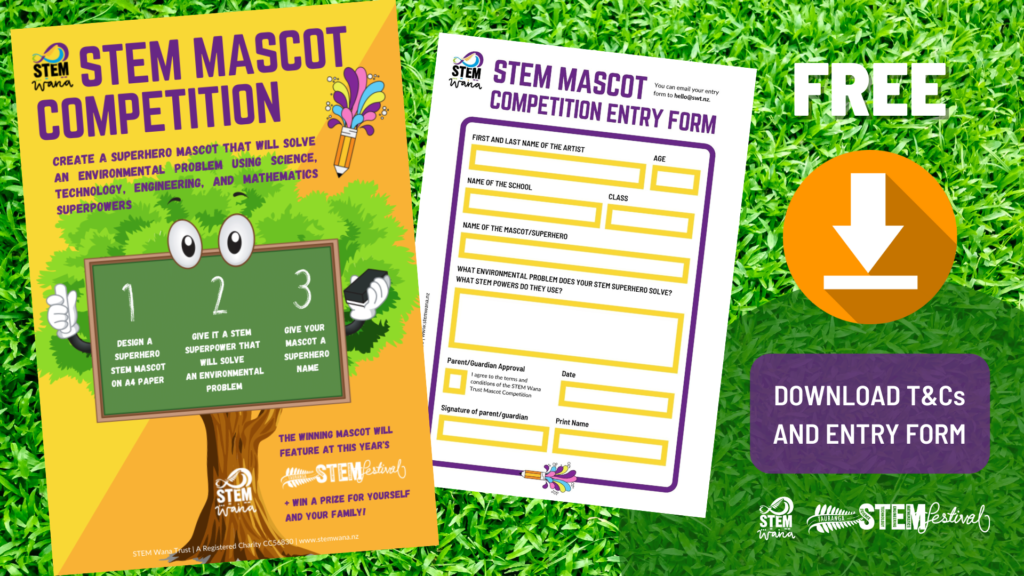 ---
Terms and conditions
All entrants should ask permission from a parent or guardian before entering. Please see the form attached for parents/guardian to sign on the day of the activity. Only one artwork per artist may be entered.
On the day of the activity, Saturday 17th July, parent/guardian are required to stay during the whole duration of the activity and supervise their children. No responsibility will be taken from the organiser, STEM Wana Trust.
Parent/guardian are willing to give permission to take photographs and/or video of the artist and are willing to grant full rights to use the images resulting from the photography/video filming, and any reproductions or adaptations of the images for fundraising, publicity or other purposes. This might include (but is not limited to), the right to use them in their printed and online publicity, social media, press releases and funding applications.
The selection of finalists is made by a panel of three judges. They will judge the artwork based on drawing skills and creativity in regards to the STEM superpower. We aim to inform the top three selected mascot designs by Monday 9th August 2021.
If your design is selected as one of the final designs, you will be notified by email and you will be invited to a ceremony, date to be confirmed. The winning artwork will feature at this year's STEMFest.
All entrants must be willing and able to participate in publicity or media stories and agree to the publication or reproduction of their work by STEM Wana Trust at any time to promote STEMFest 2021 and other events held by STEM Wana Trust, without payment of any fee, royalty or commission.
All entrants grant STEM Wana Trust non-exclusive rights to reproduce their artwork in material form, to photograph, publish and/or communicate it to the public for the following competition-related purposes, and anything incidental to such purposes, by STEM Wana Trust, competition partners and sponsors: marketing, publicity, educational and publication uses, the competition and its exhibition in all media, including but not limited to electronic/digital, broadcasting and print media, in perpetuity.
Where reasonable, STEM Wana Trust will attribute the artist as the author of the work and reproduce the work in full. Details of the work may be used at STEM Wana Trust's discretion. Entrants will not be entitled to any fee for such use.