GIVEAWAY TIME
WIN A WEEKEND IN TAURANGA AT STEMFEST THIS SCHOOL HOLIDAYS! 🧪 🦾 ⚙️ 🔢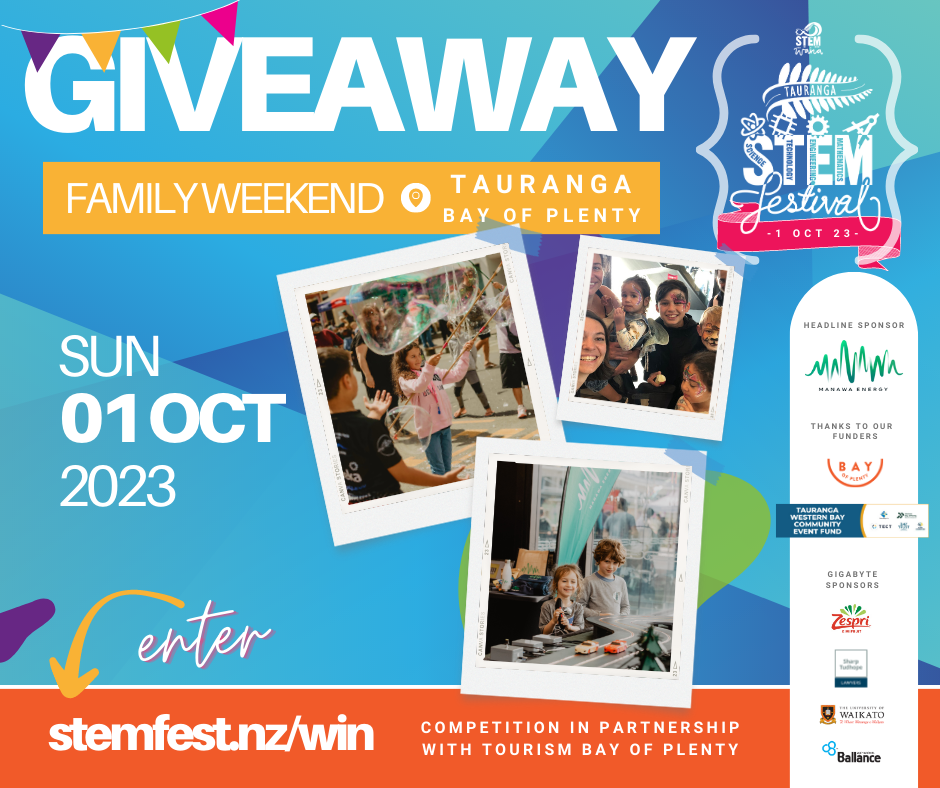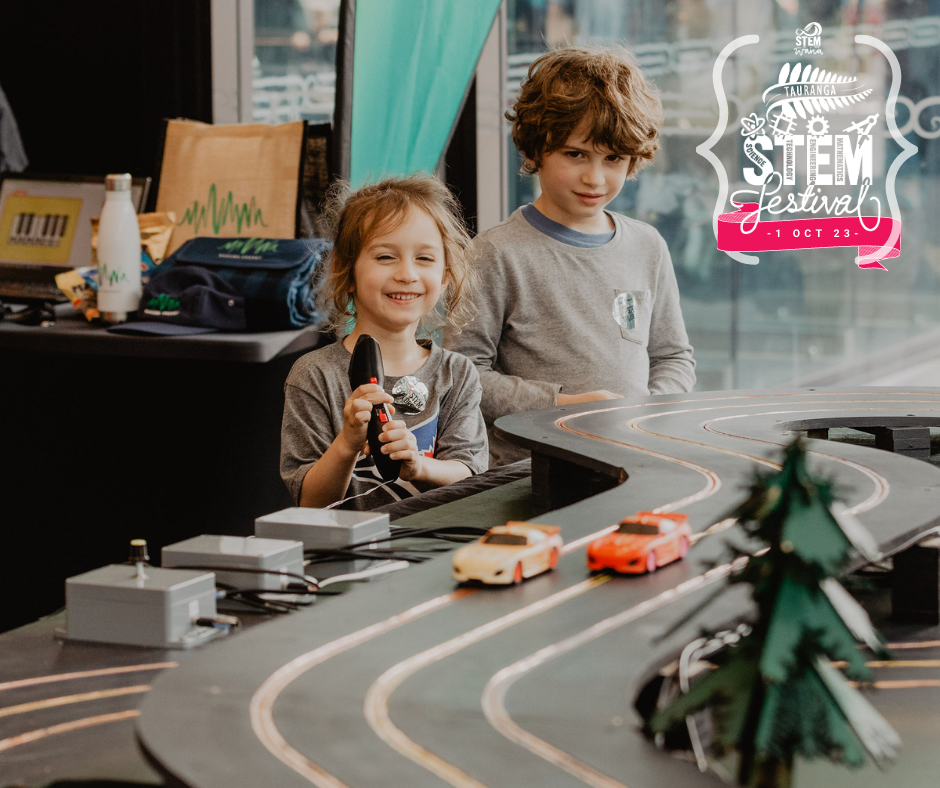 ---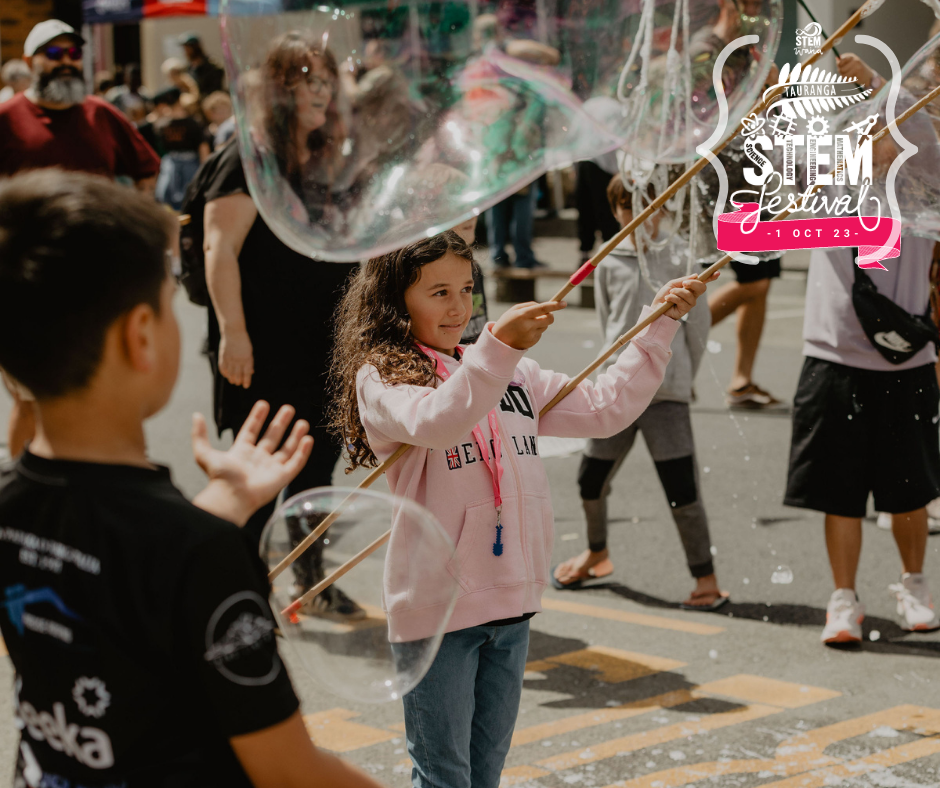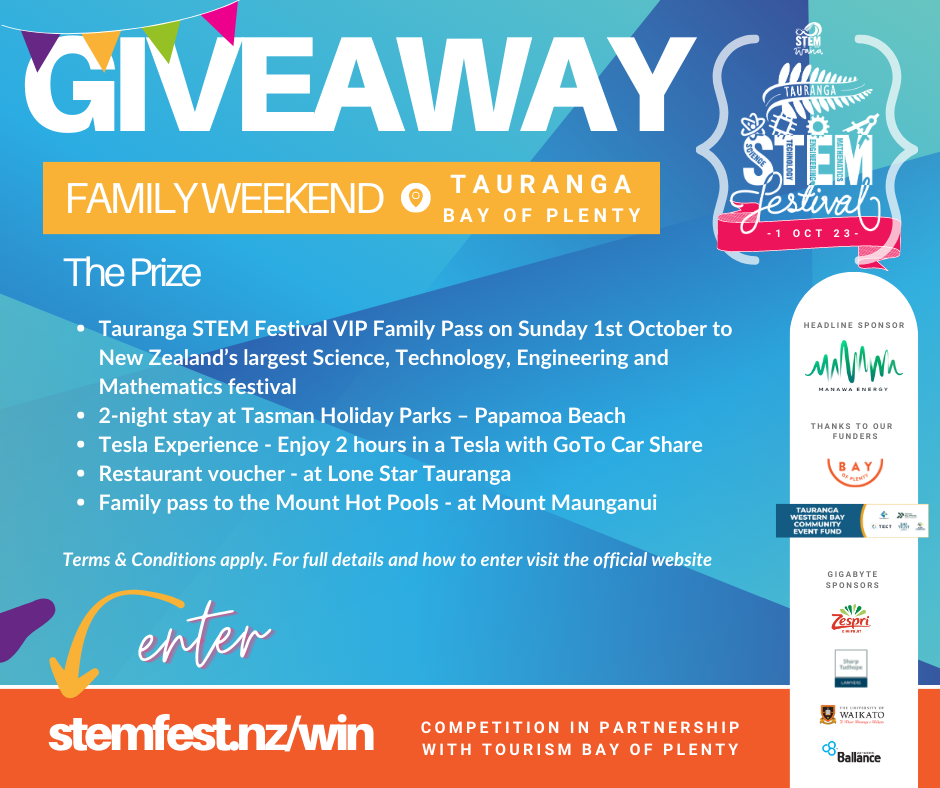 ---
We've teamed up with Tourism Bay of Plenty and have an amazing family weekend in the Bay to give away!
The prize includes:
2-night stay at @ Tasman Holiday Parks – Papamoa Beach from 30 September to 2 October 2023
@TaurangaSTEMFestival VIP Family Pass on Sunday 1st October- New Zealand's largest Science, Technology, Engineering and Mathematics festival
Tesla Experience – Enjoy 2 hours in a Tesla, thanks to GoTo Car Share
Restaurant voucher – Lone Star Tauranga
Family pass to the Mount Hot Pools at Mount Maunganui.
TO ENTER:
You must be following @Tauranga STEM Festival and @Bay of Plenty NZ facebook pages or @stemfestnz and @bayofplentynz instagram pages
Enter online by completing the form below (one entry into the draw)
Bonus entry: Comment on the official competition social media posts about why your kids would love to attend STEMFest (one entry into the draw, limit one per person)
Extra bonus: Share the official competition social media posts
The competition ends on Sunday 17th September 2023. T&Cs apply, please see below.
GOOD LUCK!
The promotion is in no way sponsored, endorsed, administered by, or associated with Facebook or Instagram.
Competition Closed
---
Competition T&Cs
24 August 2023
These terms and conditions (Terms) apply to all entrants in The STEMFest 2023 VIP Weekend Experience (the competition) promoted by the STEM Wana Trust (SWT) and Tourism Bay of Plenty (TBOP)
By entering the Competition, you are deemed to agree to these Terms without qualification. If you do not agree to be bound by these Terms, you must not enter the Competition.
The STEMFest 2023 VIP Weekend Experience will commence on 12.00 am 28 August 2023 and end 12.00 am on 17 September 2023 (Competition Period). SWT reserves the right to extend the Competition Period.
SWT will issue further instructions and information about the Competition during the Competition Period (Specific Terms). In the event there is any inconsistency or conflict between these Terms and the Specific Terms, these Terms will prevail.
Entry into the Competition is free. However, any costs with travelling to the event from your home centre are to be borne by the winner.
SWT reserves the right to verify the validity of entries and to disqualify any participant at its sole discretion. Failure by SWT to enforce any of its rights at any stage does not constitute a waiver of those rights.
To be eligible to enter the Competition you must:
Be aged 21 years or older; and
be living in New Zealand but OUTSIDE Greater Tauranga; and
not be an employee or relative of an employee of SWT or one of the Competition Partners.
How to Enter
You must be following @TaurangaSTEMFestival and @BayofPlentyNZ on Facebook OR Instagram
Comment on a any social media post on Facebook or Instagram that relates to the competition – no comments on other social media activity will be considered entries
Visit the official website for an additional entry www.stemfest.nz/win (one entry into the draw, limit one per person)
Prize Details
– Tasman Holiday Parks – Papamoa Beach includes a deluxe holiday unit stay from September 30th to October 2nd. The unit is designed for a maximum of 2 adults and 2 children. For check-in details and additional information, please refer to this link.
– Winners must be at least 21 years of age and hold a full, clean driving licence to take advantage of the Tesla experience.
– Family VIP pass to STEMFest includes: event entry for morning or afternoon session, queue jumper lanyard, meeting our STEMFest Ambassador and enjoy a hot drink each – valid for a morning OR afternoon session as selected by the winner.
– Lone Star voucher value up to $100 to be redeemed at Lone Star Tauranga, any additional cost must be paid by customer.
– Family pass for 4 people to Mount Hot Pools
Details on when and how winners are picked
All names will be entered into an electronic draw and selected at random at 12pm on Monday 18th September. The organisers will contact the winners via email once the winner has been picked.
Liability
SWT is not responsible for any technical malfunctions or problems with the internet or network congestion, including injury or damage to a participant's or any other person's device related to participation in this activity, or problems with transmission of entries over the internet.
To the maximum extent permitted by law, SWT will not be liable for any loss or damage whatsoever (including but not limited to indirect or consequential loss) in relation to the Competition, including all express and implied warranties and representations, or for personal injury as a result of participating in the Competition or accepting or using a prize(s). Nothing in these Terms and Conditions is intended to exclude, restrict or modify the participant's rights under the Consumer Guarantees Act.
Social Media and Privacy
You are asked to provide personal information when you register to enter the Competition. You consent to the release of your personal information to SWT and third parties in connection with the Competition and the uses contemplated by SWT's privacy policy. In particular, you consent to SWT using your personal information to contact you to notify you if you are a finalist or Prize winner and/or publishing your name and photo on the Webpage and SWT's official social media accounts.
SWT will post Live Stories to its official social media accounts in relation to the Competition.
Under the Privacy Act 2020, you have the right to access and correct your personal information. To do so, please contact SWT by email at hello@stemwana.nz.
General
SWT reserves the right to amend or replace these Terms at any time without notice. Amendments will be effective immediately upon being made on our Webpage.
SWT reserves the right to cancel the Competition for whatever reason, at its sole discretion. Any cancellation or modification to the Competition will be notified on the Webpage and STEM festival websites.
If any provision of these Terms is held to be invalid, void, unenforceable or illegal for any reason, such provision will be deemed to be severed from these Terms and the remaining provisions will continue in full force.
If SWT delays or does not exercise any of its rights or remedies under these Terms, that will not be a waiver of the right or remedy.
These Terms are governed by the laws of New Zealand and subject to the non-exclusive jurisdiction of the Courts of New Zealand.
In these Terms, "Competition Partner" means one of the following entities:
STEM Wana Trust organising team and their immediate families
TBOP employees & immediate families
Lone Star Tauranga employees & immediate families
Mount Hot Pools employees & immediate families
GoTo Car Share employees & immediate families
Tasman Holiday Park employees & immediate families