We are launching a Tauranga, and New Zealand, first this year with the inaugural Tauranga STEM Festival (STEMFest) this Saturday the 12th October.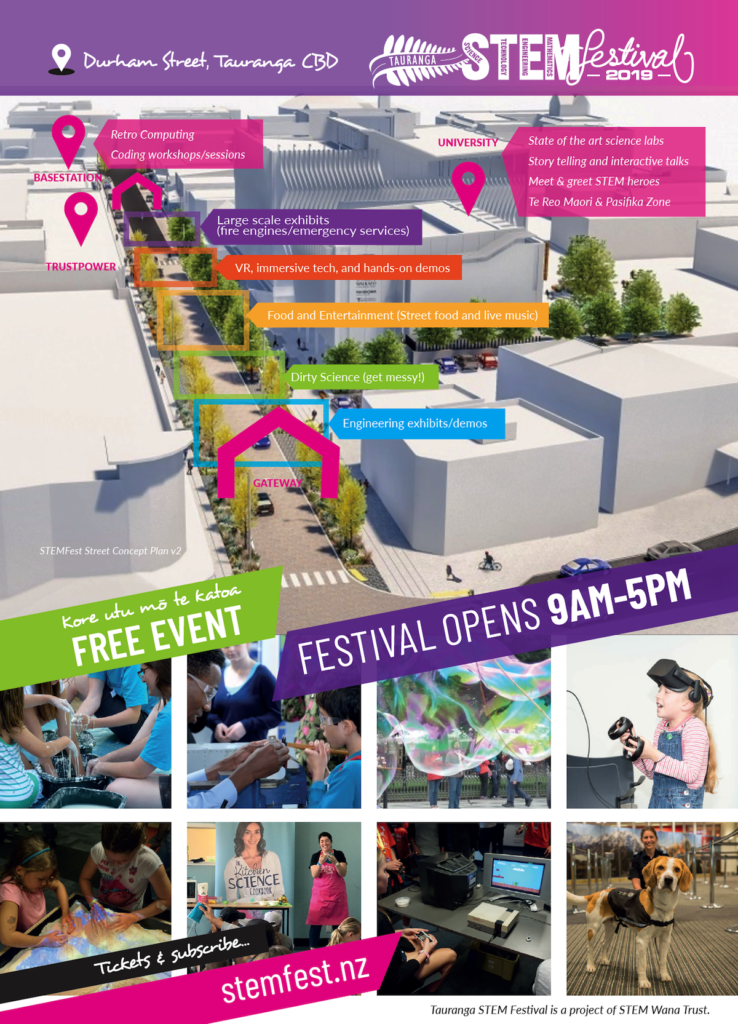 STEMFest is a celebration of science, technology, engineering and science, and children and whānau from all over Tauranga (and New Zealand!) are coming to attend this free event. STEMFest will see hands-on experiences and experiments for people of all ages take place on Durham Street in Tauranga's CBD – which will be shut down for a whole street celebration.
Support received from community organisations, businesses and inspirational New Zealanders to date has seen the event grow in ambition and scale. Over 5,000 tickets to STEMFest have been ordered to date with a complete 'sell out' a month before the main day!
With more than 40+ exhibitors and STEM demonstrations and providers, we will be hosting a dirty science zone with special guest Slime Princess, AquaSTEM with underwater drones from the University of Waikato, engineering feats and computing science and technology, science workshops from Nanogirl Labs and their Kitchen Science Cookbook Live! show and experiments from House of Science Tauranga, as well as fire demonstrations from Fire Emergency NZ and a large scale working model hydro dam that's been especially engineered and built in the Trustpower building!
Other contributors who are travelling from other parts of the country include, Mathscraft NZ from Christchurch, NZ Defence Force, RNZAF School to Skies from Auckland with a general aviation sized plane and the MPI Biosecurity Dogs team taking part in demonstrations throughout the day along with MOTAT with their remote STEAM Cell.
Generous support from Bay of Plenty Regional Council Toi Moana has meant that ticket holders for STEMFest can enjoy free bus travel on the Bayhopper network during all of Saturday!
STEMFest has been organised by volunteers and has been able to happen through generous funding and sponsorship. The main sponsors are the University of Waikato and Beca Group. With Principal funding provided by TECT and funding partner Tauranga City Council.
The organising team and squad of enthusiastic volunteers are looking forward to welcoming 5,000 visitors to Tauranga's CBD on Saturday!
Key Facts:
Open to the public from 9am to 5pm on Saturday 12th October 2019
FREE to attend
For children of all ages and families
Hands-on learning by doing activities
5,000 tickets issued to date
Expected visitors on the 4,000
Event now SOLD OUT with demand still high
FREE bus travel with a STEMFest ticket courtesy of Bay of Plenty Regional Council
Principal Funder
Main sponsors
Beca
University of Waikato
Funding Partner
———————-
About STEM Wana Trust
STEM Wana Trust is a Registered Charity (CC56830 on 8 March 2019) and was set up as an incorporated Charitable Trust in January 2019. The Trust has been created with the following purpose and aims:
"To engage and inspire a new generation of scientists, technologists, engineers and mathematicians through creative community initiatives and events."
https://www.taurangastemfestival.co.nz/stem-wana-trust/