Thank you for your interest in volunteering for Tauranga STEM Festival 2022! We are looking for amazing adult volunteers to join #TeamSTEMFest and support us.

Volunteer Main Day – can you help?
You will have the opportunity to be 'ambassadors' of STEMFest — creating the first and most lasting impression on exhibitors, officials, VIPs and the public.
We need help with pack in and pack out:
Pack in on Saturday 1st October 12PM-4PM – 4 hours
Pack in Sunday 2nd October 7:30AM-10AM – 2.5 hours
Pack out Sunday 2nd October 4PM-6:30PM – 2.5 hours
Main day 3.5h shifts (General duties to include: meet and greet, crowd control, directions and general assistance etc):
09:30 to 13:00
12:30 to 16:00
Why should you get involved?
Benefits to being a STEMFest volunteer include:
the opportunity to make a contribution to your community
an insider's view of being part of an ambitious world-class event
gaining useful job experience and satisfaction
meeting like-minded people and working as a focussed team
identifying possibilities for personal skills development
strengthening your CV and presenting a community committed approach for potential future employers
If you can spare a few hours during this time, we would love to hear from you! We can't promise you riches, but we can promise you an exclusive STEMFest team t-shirt as well as the most amazing fulfilling experience to help bring this ambitious event to life. Be part of this amazing journey!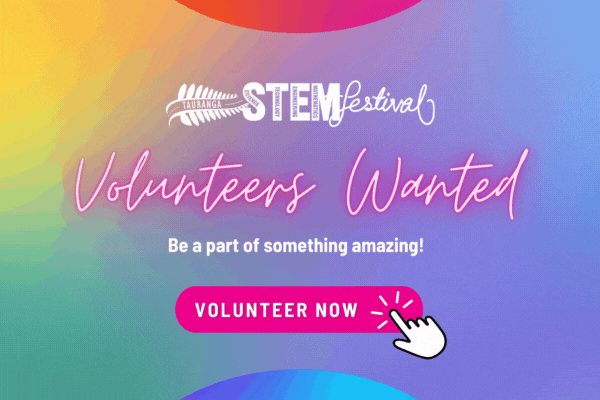 Ngā mihi – thank you!